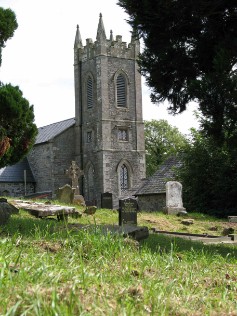 Knockbride Church near to Rooskey Knockbride a place of Bloomer settlement in Ireland
Ephraim Zvi Barzel was born in Tartu in Imperial Czarist Russia in 1798 in the reign of Czar Paul I of All the Russias and his cousin (who he has been confused with) was known as Efraim Barzel was born in 1801 in Tartu, Estonia. They belonged to crypto-Jewish families and were circumcised on the 8th day and in Russia were influenced by a strange religious group of Jews called Frankists (Catholic Jews). Ephraim Zvi Barzel was also called Edward George Bloomer and he was the son of an Irish soldier who came to serve in the Russian army of the Empress Catherine II the Great of Russia. Ephraim Zvi's father John Alexander Bloomer was an American -born Irish-raised soldier who came to serve with the Irish Earls O'Rourke (Orurk) who were based in Tartu in Estonia. He was to serve under Major General Earl Cornelius Orurk and later in the fight against Napoleon in 1812 with Earl Joseph Orurk. He was first cousin with Efraim Barzel who was born Edward O'Reilly or Riley and took his mother's surname Bloomer and they grew up together in Tartu in Estonia.
Ephraim Zvi's mother was Miriam Reizel (Anglicised to Mary Rose) and she was the daughter of Rabbi Yekutiel Yehuda Zalman Leib. The acronym of his name is Reizel (which means rose). Rabbi Reizel was a secret Frankist Rabbi and believed to be a son of Jacob Frank himself. Rabbi Reizel was also involved with the Hasidic movement and went to Palestine in 1777 with Rabbi Avraham Kalisker. Whereas Efraim Barzel's mother was Elizabeth Abigail Bloomer and his father Edward O'Reilly a descendant of Count John Alexander O'Reilly (known as Count Alejandro O'Reilly of Spain).
Ephraim Zvi was trained by his grandfather in the mysteries of the Zohar and the rituals of Judaism. They were also influenced by the teachings of Hasidic Judaism.
The Russian Irish nobility recognised Ephraim Zvi's father John Alexander Bloomer as the Jacobite de jure 9th Earl of Stirling a title his father James Alexander Bloomer had inherited in 1783 on the death of General William Alexander the 7th Earl of Stirling. Even though many leading Scottish nobles and notables recognised William Alexander as the 7th Earl of Stirling the British authorities ruled against this recognition. However he was always referred to as Lord Stirling during his lifetime.
Efraim Barzel (aka Edward O'Reilly Bloomer)'s father Edward was known as Count O'Reilly in Russia among the noble circles. His aunt Countess Jenny O'Reilly married a Russian Prince Andrei Vyazemsky.
Around 1815 Ephraim's family decided to return to their relatives in Cavan Ireland. They were to settle in the Knockbride area in the townland called Rooskey or Ruski named due to the family's sojourn in Russia. They were accompanied by Earl Bernard Orurk of Russia [a son of Earl Patrick Orurk (O'Rourke)]. After Earl Bernard's death his widow Henrietta Orurk (nee Smith) would marry Ephraim's brother George (Gershon).
Earl Joseph Orurk a Russian Irish officer and Frankist
His cousin Efraim however remained in Russia as a soldier serving Earl Joseph O'Rourke until 1818 when he married Countess Henrietta Orurk a daughter of Earl Joseph. After their marriage they also went to Ireland where their first son Edward was born in 1819. They had a number of children and Henrietta died after the birth of a son James (Yacov) in 1826. Earl Joseph Orurk in 1819 bought a huge estate in Belarus (Minsk region) and retired there in order to spend time in the study of Jewish and Catholic mysticism according to the teachings of the Zoharists (Frankists).
Their second son Joseph Bloomer (Yosef Barzel) was born in 1820. He later in life suffered a serious illness and he then took the additional name of Baruch. He married his cousin Rachel (Reizel) Barzel (Rachel Bloomer) the daughter of Joseph Bloomer (Barzel) (b.1784) and his wife Dinah Rachel Reizel the daughter of Rabbi Yekutiel Yehuda Zalman Leib (Reizel). He settled permanently in Palestine and is the maternal grandfather of the famous Breslov Rabbi Yisroel Ber Odesser (Saba Yisroel).
Ephraim Zvi married in a Church of Ireland ceremony to Elizabeth Fox (of a crypto Jewish family) in 1827. After this marriage he moved with many of his Barzel relatives in Russia to Palestine including his cousin Efraim where a number of his children were born in Tiberias in the Galilee taking the surname Barzel. His cousin Efraim's wife Countess Henrietta Orurk's mother held the titular title of Princess of Galilee and Countess of Bethlehem. Around 1837 after the Earthquake he left Palestine for England where his son George Barzel (Bloomer) was born in 1841 and daughters Miriam (Mary) and Susanna (Shoshana) in 1837 and 1838. Ephraim and Elizabeth (Elisheva) left their young children with relatives in Palestine. His brother Chaim Barzel as Christopher Bloomer settled in Manchester. Ephraim attended and assisted the Rev. H.S. Joseph a Hebrew Christian Anglican priest from Liverpool when he visited Manchester.
In the 1840's Ephraim Zvi and Efraim both reverted to the name Edward Bloomer and Efraim as Edward Bloomer settled in Shercock in Cavan where he remained as a leading citizen and landowner until his death in 1869. Efraim Zvi remained a supporter of the London Jews Society in the Church of England. Ephraim Zvi (aka Edward George Bloomer) and Efraim (Edward O'Reilly Bloomer) had both in Palestine gone back to the full practice of Orthodox Judaism with their family. However after the shock of the earthquake in 1837 Ephraim Zvi and his wife had a religious conversion back to Jesus. This caused problems with other members of their family and in fear of their lives they left their children who were too young to travel and fled Palestine along with his cousin Efraim whose mother and grandmother died in the 1837 earthquake. Efraim's 18 year old son Edward left with some of his brothers with them. However his 17 year old son Joseph chose to stay in Palestine.
Efraim's 13 year old daughter Bella (Isabella) would later move to Russia where she would marry Rabbi Aharon Alexander Brody (Broide) who had been a ward of the Czar himself and a male line descendant (grandson) of the Alter Rebbe's Catholic son Moshe ben Zalman (aka Reb Moshe of Sh'klov) and also a descendant (great-grandson) of Rebbe Nachman of Breslov. They dropped the Brody from their name and used Alexander as their surname. They were prominent among the secret Frankists who remained within the Jewish community in Zhitomir. Bella's daughters Bluma and Anna Alexander married into the Finestein (Finestone) family. Bluma's descendants became prominent in Jewish-Christian evangelisation. Anna's family settled near Manchester (Prestwich and Cheetham Hills) in England where there was a strong Jewish community. The name Julius (Yuliy in Russian) in the Finestone family was in honour of Reb Moshe's name [Leon] Yulievitch.
Three of Ephraim Zvi Barzel's sons stayed in Palestine and were called Abraham, Chaim and Meir Barzel. Meir was the father of Efraim Zvi Hirsh Barzel who married his cousin Chana Maschoieff whose mother was Raizel Barzel (b.1847) a daughter of Chaim (b.1828) and Feige Barzel. Raizel had an older brother Zayde Barzel (b.1844). Raizel and Zayde also had two brothers Shimon and Efraim Barzel.